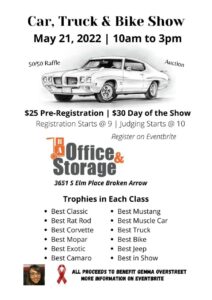 It is no longer at CJ Moloney's.  The location is now at B.A. Office and Storage, 3651 S. Elm Place, Broken Arrow.
Every Car, Truck and Bike is Welcome to Enter
May 21, 2022 from 10AM to 3PM
Trophies in Each Class
50/50 Raffle and Auction
$25 Pre-Registration or $30 on the day of the Show
Gemma is a wife and a mother of 4 with 2 grandchildren. She is also a realtor for Keller Williams in Owasso and a good friend to anyone she has ever met. Gemma began showing neurological symptoms early Summer 2021. Her doctors missed the signs and kept dismissing serious issues with small benign causes. In late August, she was admitted into the emergency room when the symptoms became increasingly worse. That is when the cavernous malformation was found through advanced imaging. Her brain had already began bleeding causing damage and inflammation. She underwent brain surgery to remove the malformation. Unfortunately, extensive damage had already been done to her brain. She has been working hard for several months to regain control over the right side of her body and dealing with numerous other obstacles. She has been unable to work since the hospitalization and there is no way to know when she will be able to return back. She is one of the most generous and caring people that I have ever known! Let's rally around her with support during this difficult time! We hope to see all of you there!!!! Thank you in advance for helping support her cause!
Invite for TVS; Not a TVS sponsored event.